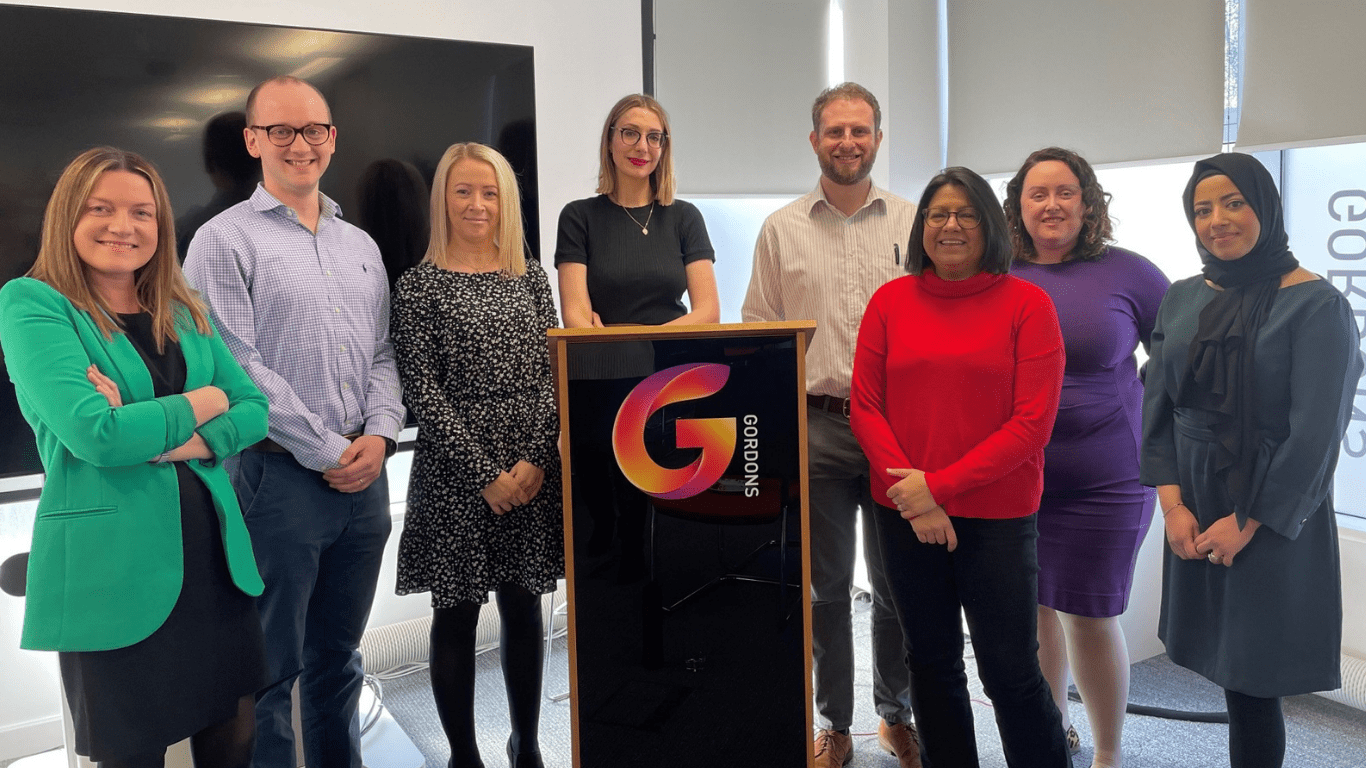 Start the conversation, break the gender bias: our International Women's Day panel
On Tuesday 8 March, Gordons hosted an internal panel-style event to mark International Women's Day.
Lead by our head of diversity and inclusion, Catherine Woodward, the International Women's Day panel was made up of Gordons' people at our Leeds office. During the event, our colleagues shared their stories and thoughts on this year's theme, #BreakTheBias, and what's it's like for women in law.
From the changes, they've seen toward gender bias over the years, to sharing how gender expectations have impacted their professional and personal lives, there was a lot to discuss. Read some highlights of what our panellists had to say on the day.
Q: Tell us about your route to a career within the law and your current position.
Amy Pierechod, solicitor and head of start-ups and emerging companies: I did an English degree and always wanted to be an English teacher or work in publishing. I didn't think I could do anything that involved 'business' or being 'serious'. Then the financial crash happened during my third year at university, and I was glued to the news and started to take an interest in business and politics. Eventually, that led me to want to do law. I trained at AG and then moved over to Gordons about a year after qualification and have enjoyed it ever since.
Q: What changes towards gender bias or gender expectations have you seen over the course of your career?
Sarah Ratcliffe, Partner: I have seen many changes spanning a period of more than a decade. One of these includes seeing more women in leading roles, not just in law but in all business and politics. Women are also being heard more with people speaking out about sexual harassment, abuse and discrimination and issues unique to women, in an unprecedented way. Women being given a global voice has had a positive impact in the workplace.
There has also been a redefinition of cultural narratives of masculinity and what it is to 'be a man'. Stay at home dads, shared parental leave and pay and childcare commitments. This has changed beyond recognition from when I started out.
Q: How has gender expectations impacted you?
Tanzeela Hussain, solicitor: Coming from my ethnic background, there are a lot of gender stereotypes about what is expected of women. Especially when it comes to juggling a career with a family or what kind of career is suitable for a woman.
I found that initially I was forced to question whether a career in law was going to give me the flexibility I might need if I wanted to have a family one day. Typically, in my culture, it is the norm for men to work and provide whereas women would tend to be homemakers. I'm pleased to say there has been a shift away from this mindset from my generation onwards.
Once I decided I wanted to pursue law, I did feel I was steered away from considering commercial law. This was because I was told of the long hours, it was very male-dominated. Also, most women who have tried to work in the commercial fields have had to leave at some point if they decide to raise a family. I gained a little experience in other areas of law but was very keen to stick to working in a commercial firm and I'm very glad I did.
Q: What more do you think can be done to overcome the bias towards women?
Nick Wilcock, solicitor: I think the first step is to better understand the nature of bias. Overt bias is quite easy to spot, but subtler forms are the ones that well-intentioned people can fail to identify. Once identified, I agree it's important that people are active, rather than passive, in opposing bias.
Also, creating an environment that does not tolerate bias, but also empowers people to speak out against it, is important. Parental leave and attitudes to childcare form part of this conversation. For example, removing the gendering of leave from maternity and paternity leave to just parental leave. Also, perhaps making parental leave more flexible.
Sarah Ratcliffe, Partner: Equality in the home. I read that 75% of women in Great Britain thought that more should be done to achieve this. In a time-poor society balancing a career and childcare/household, responsibilities are still tough. Proper division in the home would help with that.
Clare Freear, conveyancing executive: I think women themselves play a big part in overcoming bias towards women. We each need to empower each other and celebrate each other's achievements, both as individuals and as a team. We need to mentor all staff to be the best that they can be. But also show solidarity with each other and have a positive attitude that does not involve pulling other women down. Staff need to have the confidence to call out any biased behaviour.
Q: What do you feel Gordons has done to support women in the workplace and to overcome bias?
Sarah Ratcliffe, Partner: Mentoring has been an important part of my progression at Gordons. Having the support and guidance as well as others looking out for opportunities for women to demonstrate their abilities and strengths.
I also value flexible working and parity of treatment for part-time workers. The opportunities have been the same regardless of whether a person works full-time or part-time. They're based on ability. It has been hard at times to balance childcare and move forward in my career and I have worked hard. However, I do not feel that I have been discriminated against for taking that flexible working path when I did. I was really proud to become a partner in April 2017 at 38 with my son who had just gone five.
Nick Wilcock, solicitor: I feel Gordons does a good job of celebrating women. We also have a balanced workforce where women are encouraged and heard. Gordons has increasingly flexible attitudes toward working hours and remote working and I've never felt any push back. I'm not a woman in the workplace but freeing me up for childcare has also had a positive impact on my wife Laura.
Peter Hampson, Head of Regulatory: Flexible working arrangements are now actively encouraged here at Gordons. In the UK, 75% of women with dependent children work, compared to 93% of men. The brunt of childcare responsibilities still seem to fall on women. I feel this new way of working will help. 
Events like this International Women's Day panel help. We need to create an environment where women feel comfortable talking publicly about these issues. Events like this are key.
To hear more about the internal events we organise, make sure you're following us on LinkedIn.