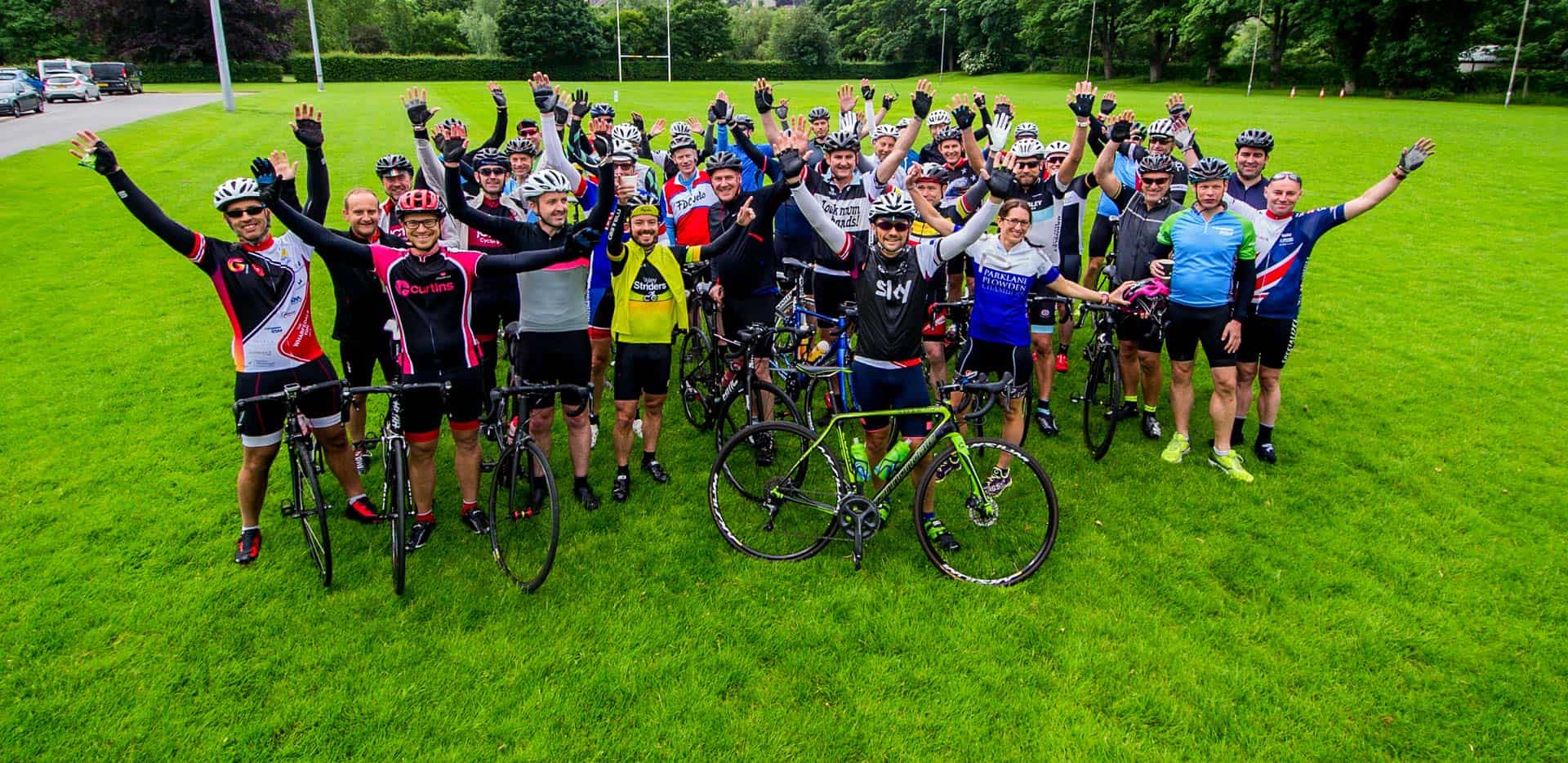 About the Wharfedale Ton
In 2016, Gordons' partner, Phil Paget, had the idea of creating a 100-mile charity cycling event involving business professionals riding through the beautiful Yorkshire countryside. From that initial thought, the hugely successful Wharfedale Ton was born.
Organised by the key sponsor, Gordons LLP, the event raises money for Marie Curie Cancer Care Hospice in Bradford.
Chain reaction
The first event in 2016 involved just 120 riders cycling a magnificently scenic route, stretching across Wharfedale from Ilkley to the Vale of York and back again, and raised £6,907. Following its' success, the Wharfedale Ton has been repeated in 2017, 2018 and 2019, when over 270 riders took part.  With a break in 2020, The Wharfedale Ton returned in 2021 and 2022 and has now raised over £70,000 in total for the hospice since the inception of the event.
Phil Paget said: "It's fantastic to see so many business people from around Yorkshire getting on their bikes to take on the challenge for such a great cause. We're also very grateful for the support provided by local businesses in the organisation of the event, as without them the Wharfedale Ton would not be as successful as it is.
"I am very proud of all those who took part, not only for their efforts during the rides but also those who donated so generously for such a good cause. The Marie Curie Cancer Care Hospice provides a range of services for cancer sufferers and their families in Bradford and we are very happy to be able to support the hospice in this way."
Our co-sponsors include:
RSM, Handelsbanken, Calder Conferences Ltd, Chemresist, Naylor Wintersgill, Lishmans the Butcher, Craven Jewellers, Reed Boardall, GM Legato Ltd, Brook-Dobson Brear Limited, Melrose Interiors Ltd and Thorpe Mill Limited.
How to enter
Enter using this link: RiderHQ – WHARFEDALE TON 2023
The Entry Fee is £34 which includes a charitable donation of £32.50 per rider all of which is donated to our chosen charity plus a processing fee of £1.50.
We also encourage riders to raise additional donations from friends, colleagues, customers and suppliers.
Entrants are invited to ride alone, in pairs or in groups, with many taking part who have never ridden the 100-mile distance before. It takes an average of six to eight hours to complete the challenge, after which all participants rest their limbs and join each other for some food and drink in Ilkley.
Strava: https://www.strava.com/routes/3074752500393486984
Downloads:
Stay in touch:
Error: Could not authenticate you.