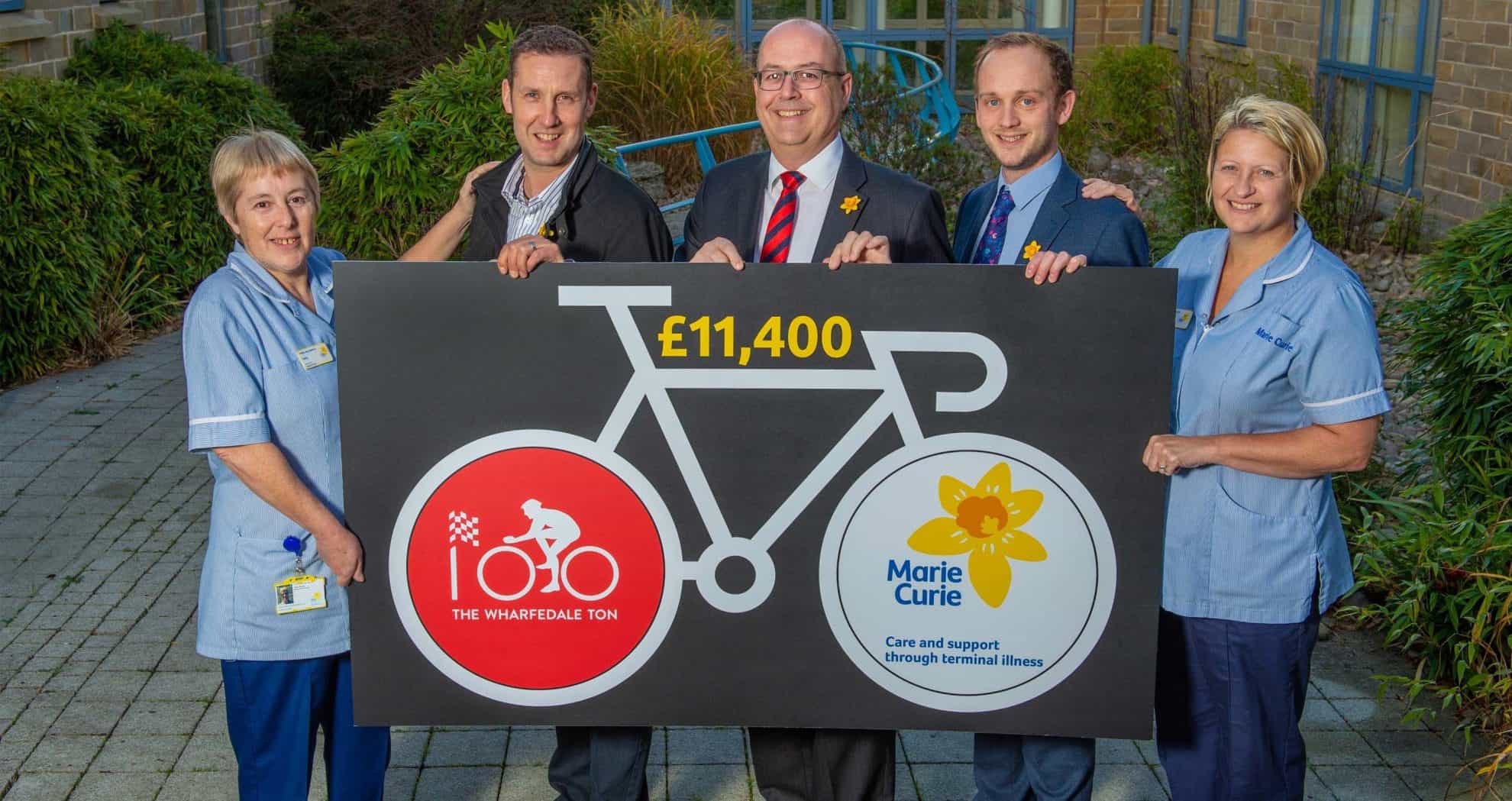 £11,400 donated to Marie Curie Hospice Bradford from Wharfedale Ton charity cycle
Tuesday 4th December 2018
A total of £11,400 has been donated to the Marie Curie Hospice Bradford following a cycling fundraising event with 250 riders from Yorkshire businesses.
Yorkshire law firm Gordons, which runs the annual 100-mile challenge from Ilkley to York and back, presented the donation to Marie Curie at its Bradford hospice.
The Wharfedale Ton has nearly doubled in size since its launch two years ago by Gordons, Lloyds Bank and audit, tax and consulting firm RSM. In 2016, around 120 people took part and raised £7,000 for long-standing charity partner Marie Curie. The following year 200 riders participated and generated £12,600 in donations.
The Marie Curie Hospice in Bradford provides specialist care and support for people living with a terminal illness. The hospice offers several different services, including a 16-bed in-patient unit and out-patient day services incorporating a variety of different activities such as complementary therapies, individual appointments or group sessions around a particular illness, art and music therapy, gentle exercise groups and a chance to meet others in a similar situation socially. Support for families and carers is available, and the hospice also provides spiritual support.
Liz Howlett, fundraising manager at Marie Curie Hospice Bradford, said: "We're extremely thankful for the hard work that everyone has put in to raise the money and the generosity of those who kindly agreed to sponsor them. The money Gordons raised across these three years has generated valuable funds in support of our services.
"This donation will allow us to continue our work in providing vital care and support, completely free of charge, to those living with a terminal illness, and their families, in and around the Bradford area."
Additional support and sponsorship for the event was provided by Reed Boardall Group, Calder Conferences, Thorpe Mill, imediate, Arena Group, Advanced Supply Chain, Roberts Mart Group, Naylor Wintersgill, Melrose Textiles Ltd, Craven Jewellers, Ling Bob Ltd, BDB Ltd and PIB insurance brokers.
Gordons partner and head of employment, Philip Paget, said: "This has been another excellent year for the Wharfedale Ton. I'm hugely grateful to the people who made generous donations to this great cause, the riders who took part, our corporate sponsors and local businesses who helped organise the event.
"The Marie Curie Hospice provides vital services for those living with a terminal illness, and their families, in Bradford so we're very happy to have raised over £31,000 in support of its important work since the event's launch.
"When I decided three years ago to organise a charitable networking bike ride, I didn't foresee it becoming the resounding success that it has. But after seeing the huge benefits to the charity from our growing community, more and more people want to get involved. At Gordons we pride ourselves on being more than simply expert lawyers, we like to make a difference too."
Gordons employs 200 people in total, split between the Bradford and Leeds offices. Clients include retailers B&M, Iceland and Morrisons; construction and high-performance materials manufacturer Saint Gobain; and international brewers Molson Coors.
For more information on the Wharfedale Ton visit www.gordonsllp.com/the-wharfedale-ton/.