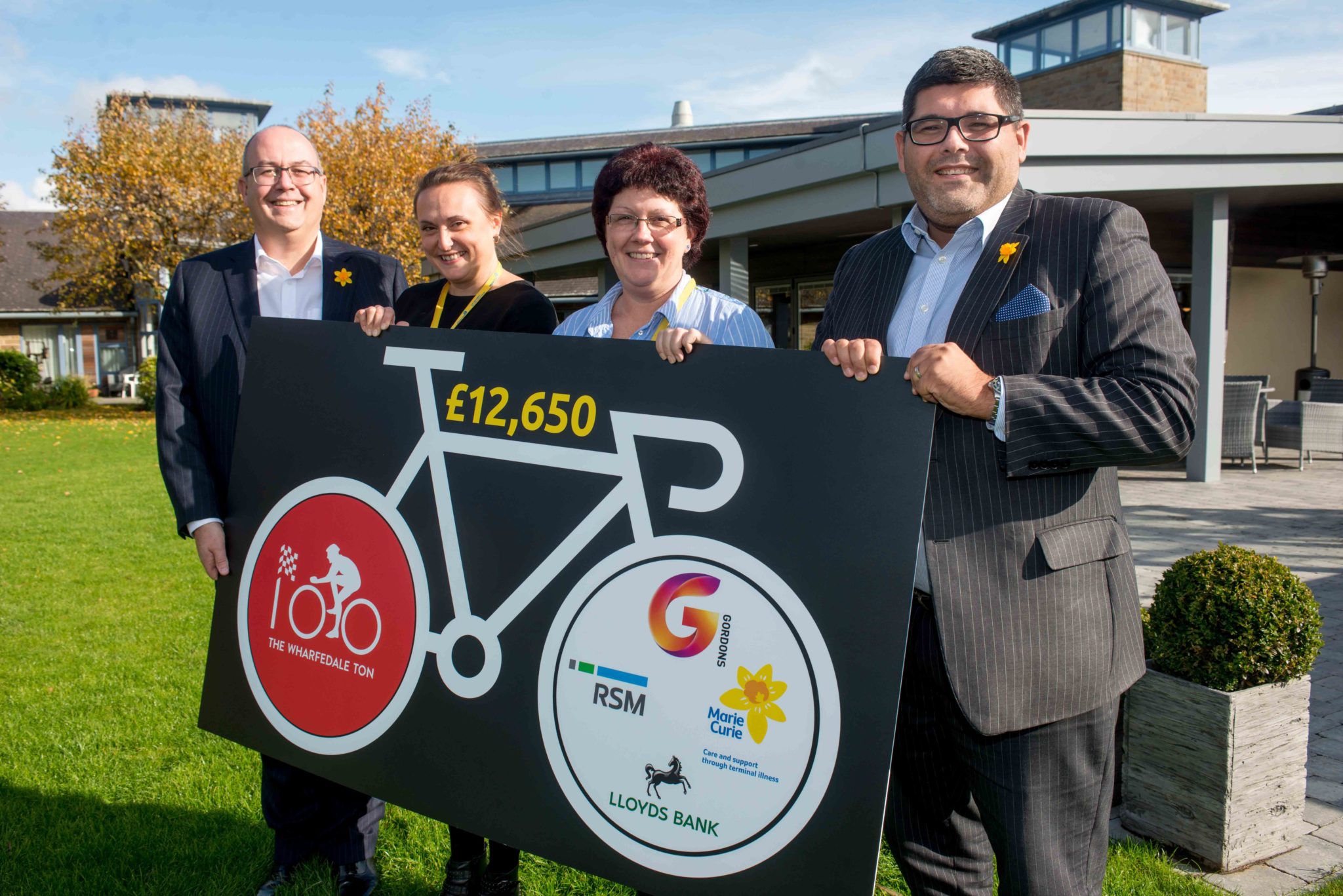 Wharfedale Ton raises £12,600 for Bradford's Marie Curie Hospice
Tuesday 26th November 2019
More than 230 people from businesses across Yorkshire have raised £12,650 for the Marie Curie Hospice in Bradford after taking part in the fourth annual Wharfedale Ton charity cycling challenge.
Amateur cyclists participated in the 100-mile ride from Ilkley to York and back again which has now raised more than £43,500 for the hospice since its launch in 2016.
The Wharfedale Ton was created by Yorkshire law firm Gordons, Lloyds Bank and audit, tax and consulting firm RSM. Around 120 people took part in the inaugural event.
Marie Curie Hospice in Bradford provides specialist care and support for people living with a terminal illness and their families.
Marie Curie Yorkshire fundraising manager, Liz Howlett, said "The Wharfdale Ton continues to raise a fantastic amount of money and awareness for the hospice here in Bradford. Thank you to everyone involved in making this year's event such a huge success.
"We have recently completed a £1.5m refurbishment at the hospice which has transformed our Day Therapy Unit into a state-of-the-art outpatient facility that will improve the care received by terminally ill patients across Bradford. We are so grateful for all the hard work and effort that everyone involved with the Wharfedale Ton puts in to raise these valuable funds which will help support our work both in the new unit and across the rest of the hospice."
The hospice offers several different services, including a 16-bed in-patient unit and also out-patient services incorporating a variety of different activities such as complementary therapies, individual appointments or group work sessions around a particular condition, art and music therapy, gentle exercise groups and a chance to meet others in a similar situation socially.
Support for families and carers is available, as the hospice also provides vital spiritual and emotional support, including recently extended and expanded bereavement support.
Gordons partner, Philip Paget, said: "Support and appreciation for the Wharfdale Ton increases every year. This year was no different with 230 people participating. Its success comes down to the generosity of all involved – the riders who took part, our corporate sponsors and local businesses who helped organise the event.
"Marie Curie provides vital services for people living with a terminal illness, and their families, in Bradford. The money raised this year is enough to fund the running of the entire hospice for two full days."
The Wharfedale Ton for 2019 took riders on a figure-of-eight route through scenic Yorkshire countryside, taking in Wharfedale to a lunch stop in York, and returning via Little Ouseburn, Wetherby and Sicklinghall back to Ilkley.
The challenge was once again supported with hospitality provided by Ilkley Rugby Club, where the race started and finished, and Lishman's of Ilkley which provided pork pies en route.
Additional support and sponsorship for the event was provided by Calder World of Travel, chartered accounts Naylor Wintersgill, Craven Jewellers, flexible packaging printing company Roberts Mart & Co, shoe retailer Pavers, transport business Reed Boardall, document management specialists Arena Group, financial consultants Brook-Dobson Brear, Melrose Textile Co, hospital equipment manufacturer Thorpe Mill and Graham and Marina Goodwin.
For more information on The Wharfedale Ton visit www.gordonsllp.com/the-wharfedale-ton/