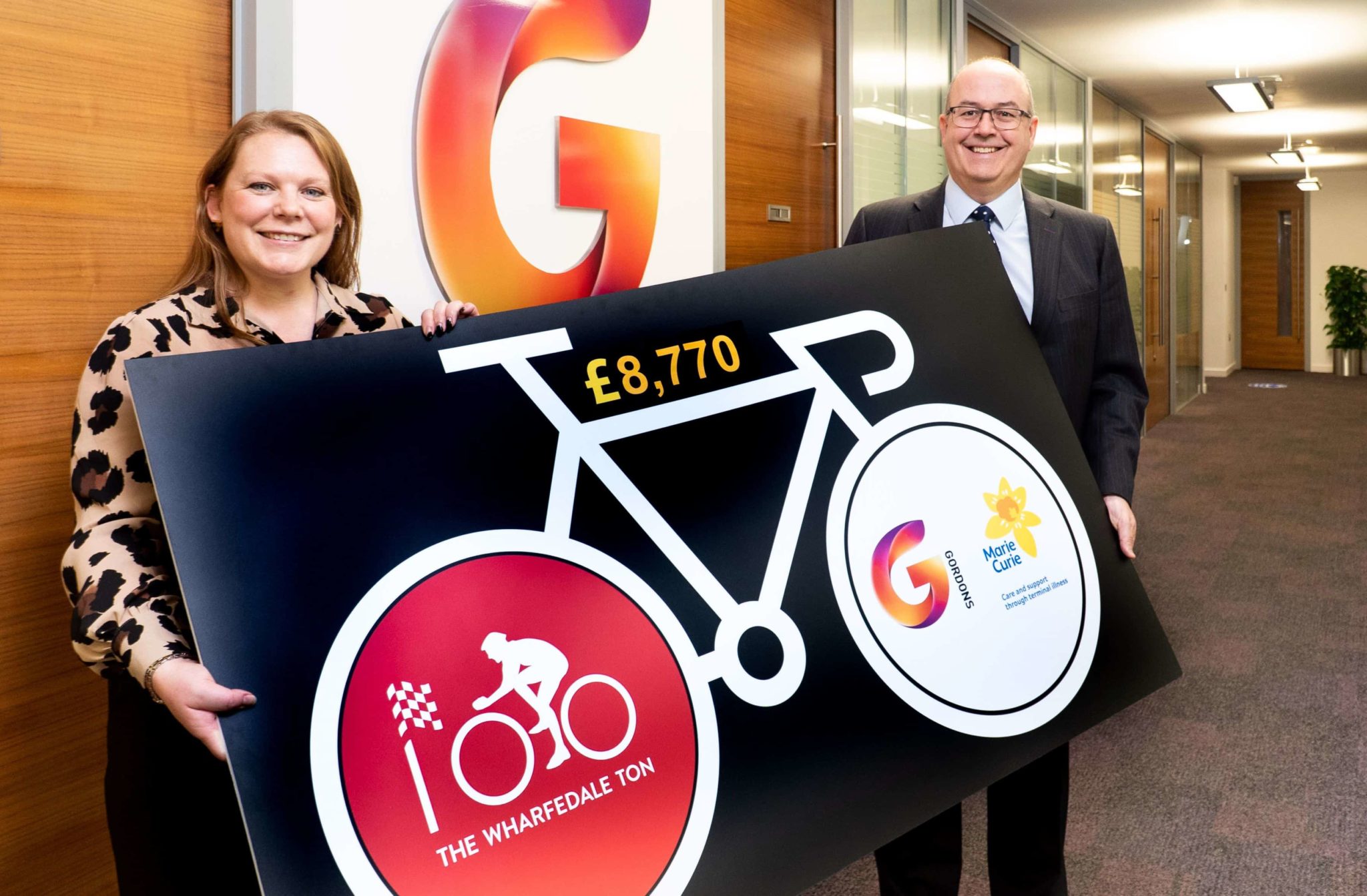 Wharfedale Ton cycling event returns to raise £8,770 for Bradford's Marie Curie Hospice
Wednesday 17th November 2021
More than 150 people from businesses across Yorkshire have raised £8,770 for the Marie Curie Hospice, Bradford after taking part in the Wharfedale Ton charity cycling challenge.
Amateur cyclists participated in the 100-mile ride from Ilkley to Boroughbridge and back again, which has now raised more than £60,000 since it was launched in 2016.
The Wharfedale Ton was originally created by Phil Paget of Gordons, with involvement from Lloyds Bank and audit, tax and consulting firm RSM. The event has always enjoyed corporate support from a range of Gordons' clients and contacts. This meant that although the event was cancelled last year due to the pandemic, thanks to corporate sponsors honouring their donations it was still able to raise more than £8,000 for the hospice.
The Marie Curie Hospice, Bradford on Maudsley Street provides specialist care and support for people living with a terminal illness and their families.
Hayley Revell, deputy head of fundraising for the North and Yorkshire at Marie Curie said: "The Wharfedale Ton is a much-loved event which we all missed last year, so it's great that it has been able to take place again this year.
"We're so grateful to all the riders and sponsors for raising such a fantastic amount of money for the hospice. We couldn't continue to provide the essential frontline nursing and hospice care and support we offer without their generous support.
"The Marie Curie Hospice, Bradford is here for people living with any terminal illness, and their families, offering the best possible care and support at the end of life."
The hospice provides a range of services to people across Bradford and the surrounding areas to help them achieve the best quality of life, whether through relieving symptoms or providing emotional, spiritual and bereavement support for family and carers.
Gordons partner, Philip Paget, said: "The Wharfedale Ton has become a real highlight in the calendar and provides a great opportunity for us all to come together each year to raise money for a worthy cause.
"The generosity of the riders and sponsors involved in the event is always humbling and it's incredible to think that the event has now managed to raise more than £60,000 for the Marie Curie Hospice, Bradford since it first began. We're already looking forward to next year's event, which we hope will be bigger and better than ever."
The corporate sponsors of the Wharfedale Ton 2021 included Gordons, RSM, Calder Conferences, Naylor Wintersgill, Reed Boardall Group, Melrose Interiors, Arena Business Systems, Brook-Dobson Brear, Thorpe Mill Ltd, Lishmans of Ilkley, Craven Jewellers, and G M Legato Ltd.
To find out more information about the Wharfedale Ton click here.