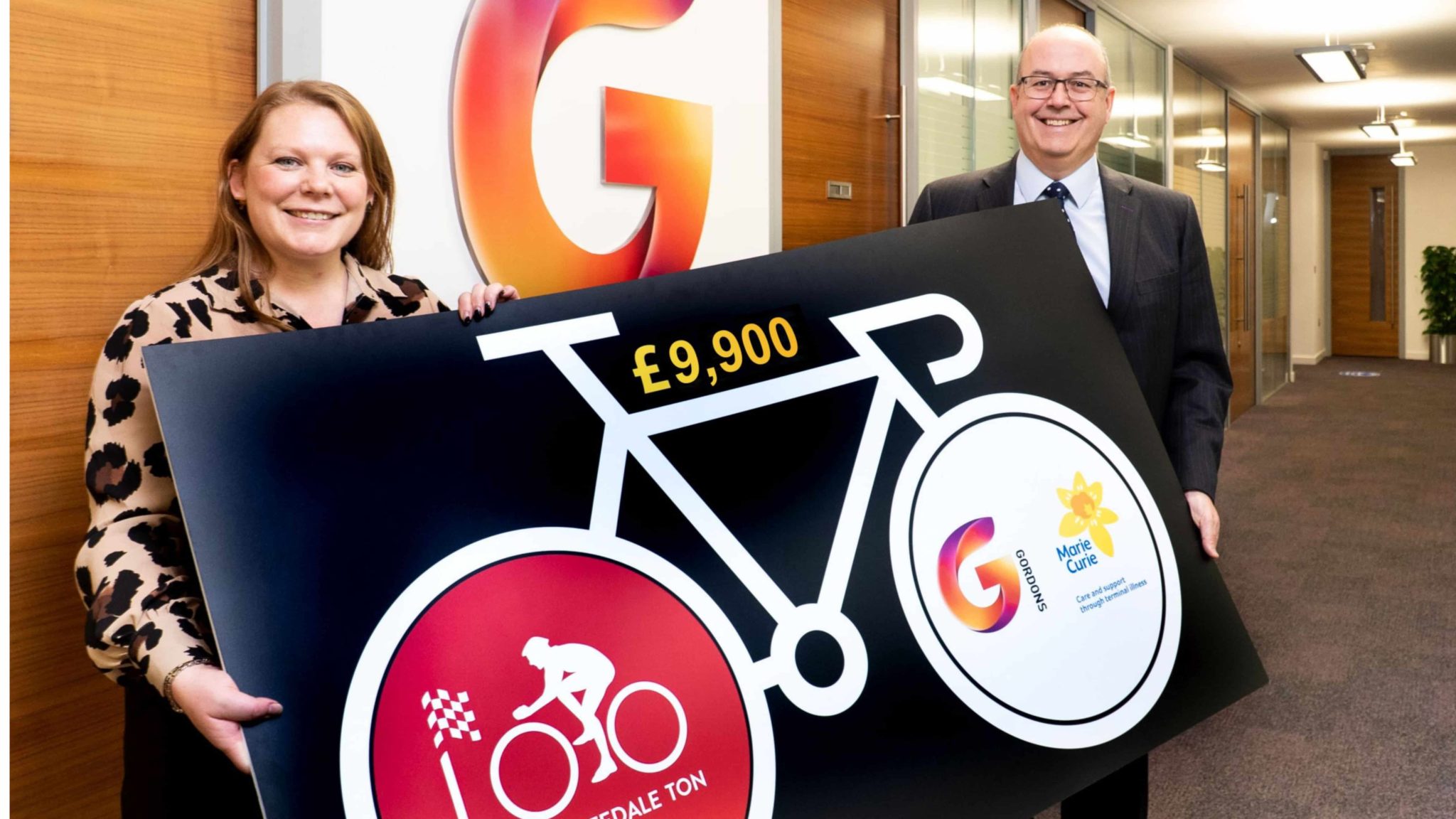 Wharfedale Ton Cycling Event Raises £9,900 For Bradford's Marie Curie Hospice
Friday 30th September 2022
More than 150 people from businesses across Yorkshire have raised £9,896 for the Marie Curie Hospice, Bradford, after taking part in the annual Wharfedale Ton charity cycling challenge.
Amateur cyclists participated in the 100-mile ride from Ilkley to Boroughbridge and back again, which has now raised around £70,000 since it was launched in 2016.
The Wharfedale Ton was originally created by law firm Gordons employment partner  Philip Paget with involvement from audit, tax and consulting firm RSM and others in aid of the local Marie Curie hospice.
The Marie Curie Hospice in Bradford provides specialist care and support for people living with a terminal illness and their families.
Hayley Revell, deputy head of fundraising for the North and Yorkshire at Marie Curie, said: "The Wharfdale Ton continues to raise a tremendous amount of money and awareness for our Bradford hospice.
"We're extremely grateful to all the sponsors and riders who made this year's event such a success. These valuable funds will help us provide the essential nursing and hospice care and support we offer, so I would thank you to everyone involved for their generous support."
The hospice provides a range of services to people across Bradford and the surrounding areas to help them achieve the best quality of life, whether through relieving symptoms or providing emotional, spiritual and bereavement support for family and carers.
Gordons partner, Philip Paget, said: "This has been another great year for the Wharfedale Ton. It is humbling to receive such great generosity and support from both the riders and sponsors involved in the event to come together to raise a fantastic amount of money.
"Marie Curie provides vital services for people living with a terminal illness, and their families, in Bradford so it's a privilege to support and raise funds for a truly worthy cause. We're already looking forward to next year's event, which we hope will be bigger and better than ever."
The corporate sponsors of the Wharfedale Ton 2022 included Gordons, RSM, Handelsbanken, Calder Conferences, Chemresist, Naylor Wintersgill, Reed Boardall, Craven Jewellers, G M Legato, Melrose Interiors, Brook-Dobson Brear and Thorpe Mill Ltd.
About Marie Curie
Marie Curie is the UK's leading end of life charity.  The charity provides essential nursing and hospice care for people with any terminal illness, a free support line and a wealth of information and support on all aspects of dying, death and bereavement
It is the largest charity funder of palliative and end of life care research in the UK. Marie Curie is committed to sharing its expertise to improve quality of care and ensuring that everyone has a good end of life experience.
Marie Curie is calling for recognition and sustainable funding of end of life care and bereavement support.
Dying in Poverty campaign
Marie Curie has launched a petition calling on the UK Government to grant working age people early access to their State Pension if they have a terminal illness, because nobody should die in poverty.
The charity is also calling for greater support with energy costs to be made available to all terminally ill people, regardless of their age, and for more support with the costs of childcare for terminally ill parents with young children.
If you believe that nobody should die in poverty sign Marie Curie's petition calling for government action mariecurie.org.uk/poverty