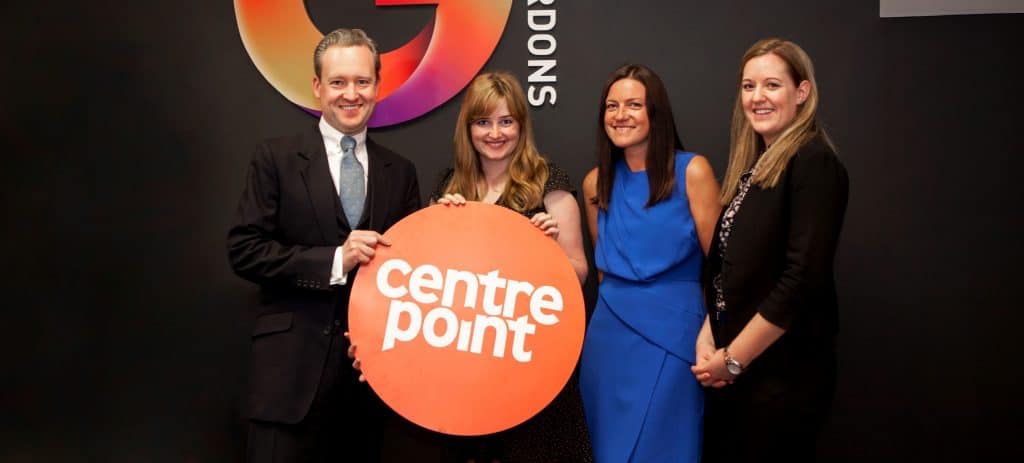 Gordons Pledges Support to Homelessness Charity Centrepoint Bradford
Gordons has named young people's homelessness charity Centrepoint Bradford as its charity partner for 2018.
With offices in Bradford and Leeds, the firm aims to raise enough in donations to fund all of the organisation's rooms in Yorkshire for a year.
Gordons will also help Centrepoint's young adults prepare for the world of work by offering mock interviews, CV assistance, mentoring and work experience placements.
Centrepoint Bradford supports young people aged 16-25 to leave homelessness behind, providing accommodation sites and a training hub where young people can access living-changing education, health support and job advice. The charity helps 180 young people in Bradford every day.
Fundraising has already begun, with more than 20 of Gordons' people completing a 27-mile Dalesway Charity Walk from Buckden to Ilkley and raising more than £3,600 in donations. The firm's partner Victoria Davey and solicitor Frances Mitchell also participated in a sponsored catwalk event at the Leeds Fashion Ball.
Other fundraising activities still to take place include the long awaited Gordons' Got Talent event in September made up entirely from people at the firm performing their weird and wonderful talents, as well as regular cake sales and five-a-side football tournaments.
Chloe Sykes, Centrepoint's senior regional fundraising officer, said: "Gordons' fundraising activities this year will help to change the lives of homeless young people in Bradford. And with so much raised from the first events, it's fair to say that the firm doesn't do things by halves.
"Just as important is its commitment to help build skills and create opportunities that will break the cycle of homelessness. It's heartening that the firm's people will volunteer their time to help young people prepare for the world of work. We look forward to working with Gordons over the coming year."
Every year, Gordons' people select a charity partner to benefit from fundraising and volunteering activities. Over the past seven years, the firm has raised more than £135,000 for its chosen charities, including national children's charity KidsOut, homelessness charity Simon on the Streets, Willow Young Carers Service, PhysCap and The Friends of Alfie Martin. . .
Sarah Ratcliffe, partner at Gordons and Centrepoint's contact at the firm, said: "We were extremely impressed with the work Centrepoint is doing in Bradford. The city is so important to our heritage and many of our staff and clients are based here.
"We are determined to make a difference to help young men and women overcome the barrier of homelessness and achieve their full potential. Our goal is to raise enough funds to sponsor all Centrepoint's rooms for homeless people in Yorkshire for a year and our dedicated staff are looking forward to achieving that, as well as exploring opportunities to volunteer."