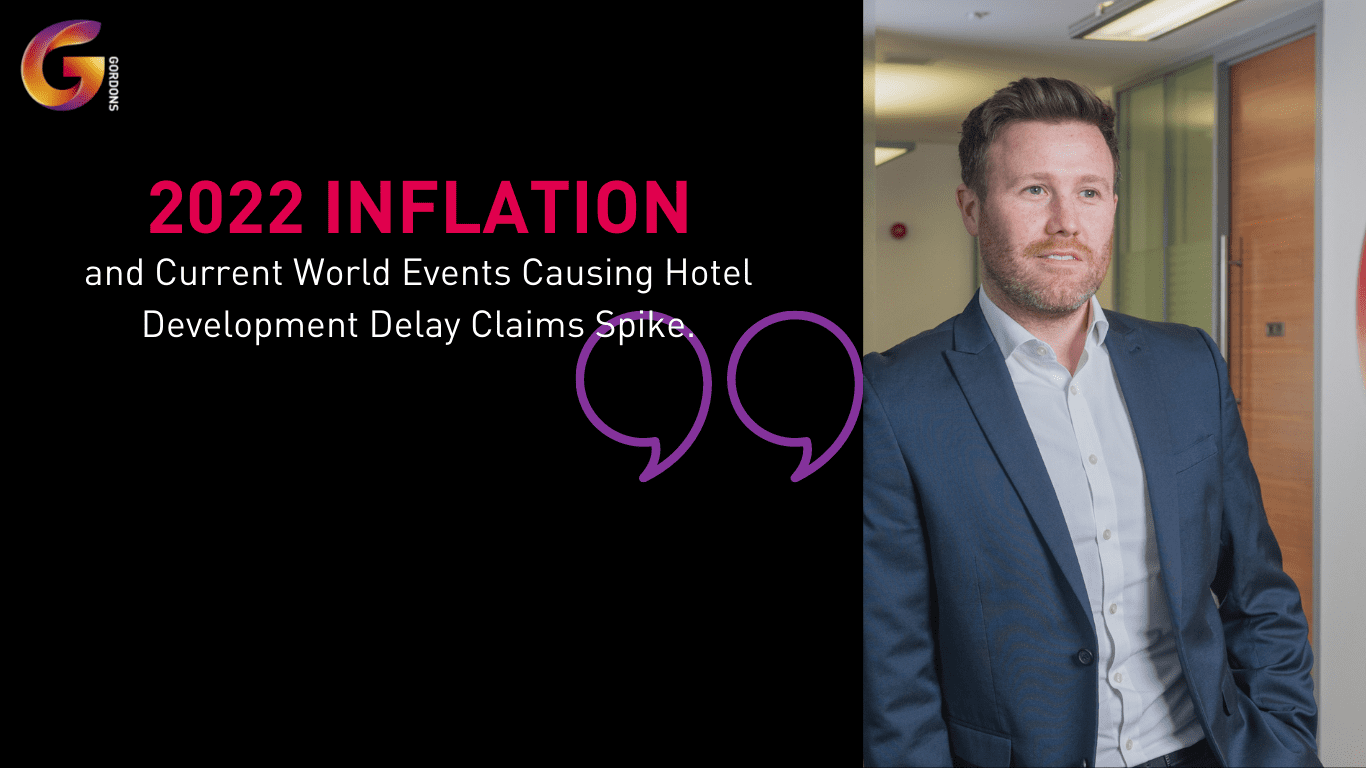 2022 Inflation and Current World Events Causing Hotel Development Delay Claims Spike
2021 saw a sharp rise in construction delay claims within the hotel development and leisure sector, largely as a consequence of the construction materials supply shortage and price rises which have severely hampered the construction industry as a whole.
As project completion dates drifted, the hotel development industry suffered particularly severely given the unique circumstances the hotel sector faces – even small delays to development projects can push back hotel opening launches and miss key seasonal periods.  This was possibly most sorely felt in the Christmas 2021 period given how Covid savaged the industry throughout 2020 and early 2021.  Many analysts had hoped the worst was behind us, but how is the industry coping as it enters the second quarter of 2022?
The industry has indeed stabilized due to demand dropping however, put simply, the problem is still alive and well.  UK inflation has risen at its highest rate since 1992 and is having a significant knock-on effect on material prices generally, driven by fuel and, critically, energy prices.  Average energy bills have risen by 54% putting increased pressure on energy-intensive industries such as steel and concrete, leading to increased surcharges.  The industry has also started to feel the impact of Russia's invasion of Ukraine causing considerable disruption to supply chains from eastern Europe both due to sanctions hampering material supply and transportation disruptions.
The increased cost of steel is a clear example of the problems hitting the construction industry.  In March 2022, British Steel announced a 25% increase in costs pushing the cost of steel to over £1,000 per tonne.  This has been attributed to the increased manufacturing costs following the energy price hike but also the inability of suppliers to meet the current significant levels of demand following the situation in Ukraine – both Russia and Ukraine together constitute the second-largest steel exporter in the world.  This has pushed significant pressure onto other worldwide manufacturers.  Similar problems are being seen with timber, copper and aluminium supplies.
All of this is having an impact on the hotel development industry, as well as the wider construction sector, causing delay claims to rise.
Contractually, delay claims are usually considered twofold – critical delay and disruption. The critical delay means the completion date of a project will be pushed back and, if caused by an event that is not the fault of the contractor, may lead the parties to agree on a new completion date and relieve the contractor of paying its employer or the developer damages.  Disruption is when the normal progress of construction work is affected by an event causing the work to be carried out less efficiently and, in many cases, causing the contractor to suffer loss.  It is not necessarily the case that a critical delay will cause disruption or vice versa.
It is contractors that are feeling the brunt of the problem.  Ongoing projects that were tendered before the crisis hit has left construction companies in a particularly vulnerable position, and those that are tendering for new jobs are having to significantly restrict their quotations, with reports of many suppliers holding tender quotes for just 24 hours or even walking away from projects as prices soar.
With the problem only intensifying, it is as important as ever to closely manage development projects and carefully consider contracts to ensure you are adequately protected, which may include considering newer creative ways to ensure projects are not hampered further.
If you want help with any issues, or have any general enquiries, please contact one of Gordons LLP's legal experts.